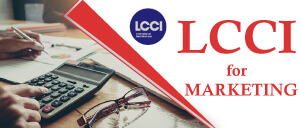 This course enables students to obtain a good knowledge of Marketing, Advertising, Public Relations and Selling & Sales Management. It is most suitable for either those who wish to pursue a career in Marketing, Advertising or Public Relations, or those currently working in this field and wish to obtain a recognised formal qualification.
Professional Preparatory LCCI Course in Marketing @Singapore
---
The London Chamber of Commerce and Industry will award successful students a third level group diploma covering these subjects, for which there are several examination options as shown.
ENTRY QUALIFICATIONS
Students should be over 21 years of age and possess 4 GCSE's or their equivalent.
Students without the necessary qualifications must take and pass the BTEC Professional Development Certificate in Marketing and Advertising.
Students may be admitted without formal qualifications providing they have relevant work experience and provided that their written and spoken English is at least Upper Intermediate/ First Certificate Level.
DURATION OF COURSE
The course lasts for six months, starting in September with examinations in April the following year. There is an option to take examinations in June.
SYLLABUS
Understanding digital marketing
Digital media, information, channels and devices
Digital marketing and the marketing Technique
Digital marketing Measures and Analytics
Challenges and Issues that affect digital marketing
Students may obtain ONE of four Third Level Group Diplomas in the following main subject areas. Main Subject Areas Compulsory Subjects Options and Minimum of one of the following subjects:
Understanding digital marketing
The digital marketing overviews

Market type
Market reach:
Characteristics of digital marketing
Trends
Marketing objectives and organisational goals
Analysing the Digital Marketing Environment

Factors affecting digital marketing strategies
Digital information, media, channels and devices
Sources of digital information

Digital information sources and search results:
Use of data by organisations:
Digital media

Paid media – organisations pay to deliver content to an audience
Earned media – organisations try to earn coverage and exposure from reporters and influencers:
Owned media – under the direct control of the organisation:
Effective digital marketing channels
Digital marketing and the marketing mix
Using the marketing mix for digital marketing campaigns

Use of digital marketing channels to place and sell goods and services:
Channels:
Factors to consider when deciding on an appropriate channel:
Marketing Mix: Product, Price, Promotion, Place (4Ps)
Push and pull marketing techniques
Digital marketing analytics
Market research

Quantitative and qualitative market research data used to identify:
Primary digital sources:
Secondary digital sources:
Measuring the success of digital marketing activities

Reasons for measuring the success of activities:
Tools used to collect, analyse and present measures of success:
Key metrics:
Key Performance Indicators (KPIs):
Legal and Ethical Challenges
that affects digital marketing
Challenges in digital marketing

SEO algorithms changing
digital platforms becoming obsolete
new digital platforms being introduced
cross-platform compatibility
increase in digital channels
handling large data volumes
cyber security
Legal and ethical issues affecting digital marketing activities

Legal issues:
data protection
intellectual property
advertising
Ethical issues:
Alternatively, students may take single subject examinations in any topic in order to obtain an LCCI Third Level Certificate.